The Eyes of Tammy Faye has easily been one of my most-anticipated films of 2021. I'm a huge fan of Jessica Chastain but of course I knew next to nothing about Tammy Faye and Jim Bakker. My parents looked at me crazy for being so excited to see this one.. At one point in time I wasn't sure if it was even coming to a theater near me so I was willing to drive four hours to take it all in but thankfully upon a second glance at my AMC Theaters app I saw showtimes for this week and I knew I had to be there when it opened. I am happy to report I was not let down in any way!
Jessica Chastain has been turning in incredible, layered performances for years now. Her turn as Tammy Faye Bakker is no different. Chastain practically disappears into her character and gives a rapturous performance to rival anyone other contenders for the Oscar gold this year. Chastain is able to make this character she's playing more human and relatable. I think those who grew up with the two on their TV screens will look at her in a new light and see she was a woman with her heart in the right place but surrounded by all the wrong people. Andrew Garfield does some heavy lifting here too. I did prefer his performance from the first act the most but he's great throughout and is definitely on the same level as his costar. Like I said before I knew very little about the Bakkers but now I feel like I know them personally.
The more films I watch the more I really grow to love biopics the most. I know a lot of people think it's just the same formula used for different people but I love them. I say this because I've seen some say "Oh, it's just another formulaic biopic" but it's not. It takes what a biopic is and elevates it. I do believe that gets a bit muddled toward the second act and I do think it's far too long (as is the same with all movies nowadays) but I can't say that I ever wanted this to end. I thought each scene flowed fluidly. And the timeline is really very nicely done. Chastain and Garfield's performances in each stage of their characters' lives is perfectly performed. For that amount of time to be put into a two hour movie and work is magic. Nothing ever feels rushed. I know some things have probably been left out but the final product that is this film is wonderful.
Now we all know this wouldn't be a movie about Tammy Faye Bakker without the shiny costumes and full faces of makeup. And while all of that is extraordinary and really transforms Chastain into her character I feel like it doesn't take away from the performance. I thought the transformation makeup was really very tastefully done. If her laugh or speaking voice didn't lead you on to who she's playing I think she looks almost identical to the real Tammy Faye Bakker.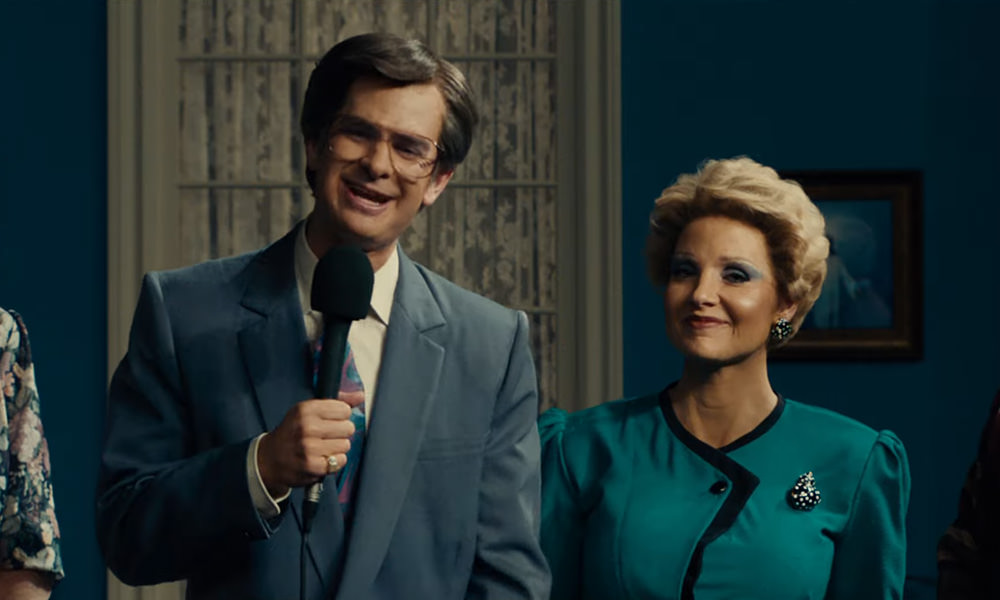 I loved this movie as a whole but Jessica Chastain's performance is really the standout here and lifts the film in places where it might drag on a bit. This is certainly a vehicle for Chastain to finally win the gold but that's not going to be a breeze because she's got some stiff competition this year. While the film may be overly long, that's my only complaint. I hope to see it a couple more times in theaters!
Reed's Rating: 9.5/10