Well, say hello to month four of isolation and quarantine. I sincerely hope that everyone is doing well given the circumstances. With no set date for a return to relative normalcy or for movie theaters I thought I'd review movies that are streaming right now. While I don't love being without the movie theater I would rather them remain closed if it means stopping the spread of the virus plus there's something being able to stay at home and watch a new movie in the comfort of my own bedroom. Today, I'll be reviewing the much talked about release from AppleTV+ and Tom Hanks Greyhound. 
Tom Hanks is legendary is his own right and can do no wrong in my book. In 2013, Tom Hanks gave a brilliant, moving performance as the titular merchant mariner Captain Phillips. Hanks is able to give a performance just as strong in this year's Greyhound. What I don't love about this film is that it never allows for any kind of development for any of the characters really. I try keeping in mind that it's not all about the characters but for audiences to really connect to the film I think characters have to be more than one-dimensional. Everyone around Hanks in supporting roles offer up good performances but none that are as impressive.
This film was definitely made in the same vein as old war movies from the 1950s and 1960s such as Midway, The Bridge on the River Kwai, and Patton. If it weren't for today's technology being used heavily throughout the movie one might think it was a movie from the golden age of Hollywood. The story is simple and while it is about the second World War it touches on subject matter that I personally have not seen portrayed in movies from the time period. The story takes place only a couple months after the United States' officially joined the war and it touches on the merchant ships that had to trek through the dangerous waters of the Atlantic that were infested with German u-boats. While the plot is simple and does get a bit monotonous in the middle the film picks up in third act and has a really nice ending.
Like I said before, the film relies heavily on visual effects, just as any modern war film would and I will say that they did not disappoint. There's not a shoddy shot in the whole runtime. I would've liked to have seen more practical effects and use of actual sets but that's just me being picky and old-fashioned. All of the editing and visual effects are tight and impressive.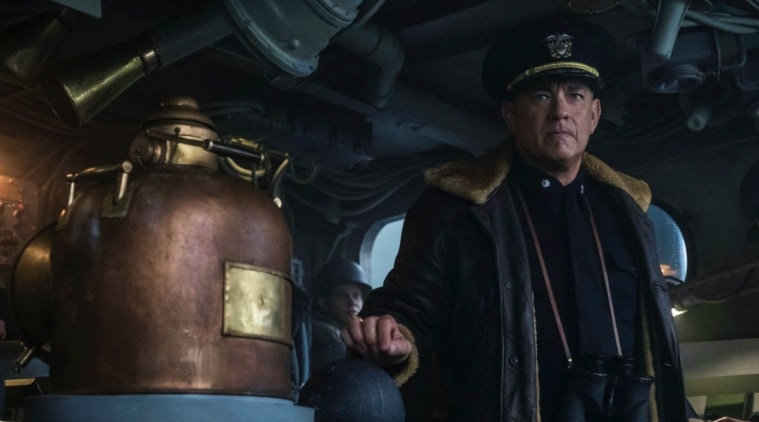 I see this as a step in the right direction for the future of AppleTV+ and its streaming content. This film is a nice addition to the line-up. It's maybe not as light and airy as we might need in this day and time but it's impressive film making that I'm a bit sad to see had to make the move to streaming.
Rating: 7/10