So, here we are. 2020 is coming down to an end. Who knows exactly what 2021 will bring but I can only hope and pray that things will look up. I haven't written one of these in what seems like ages (but really it's only been since September) and I wanted to get back into it with this much anticipated Pixar flick. If you'll recall back in January of this year I made a list of my personal most-anticipated movies of 2020 and while it can mainly be looked upon as an artifact because 7 out of the 10 films listed had to be rescheduled due to the ongoing global pandemic I was more than excited to hear Disney's plans for releasing Soul on Disney+ (Can we also talk about how CLUTCH Disney+ came in this year!) I do hate that the film had to forgo the movie theater treatment but viewing at home versus waiting six-ten more months for it to finally be released was the ideal option and boy, did Disney/Pixar outdo themselves.
This cast is stacked with an impressive array of talents. Jamie Foxx is cast as the main character Joe Gardner and opposite him is the ever-talented Tina Fey as 22 who adds some wit in a more serious film. Phylicia Rashad, Angela Bassett, Questlove, and Rachel House are among its supporting role voice actors. I would be willing to say that the audience is seeing rather different performances from the two leads. Funny lady Tina Fey, while delivering several successful one-liners that will make the adults chuckle, is tasked with a more serious and deep role and knocks it out of the park. The two together here are very good and super entertaining. One qualm I do have with it and it's very small is that we never get to know Angela Bassett's character any more than the few minutes of screen time she has. I do wish they would've fleshed out her character along with a few others a bit more but I completely understand why it was done like it was. We're focusing on Joe and 22 not everyone else. Overall though the talent is pretty self-explanatory and was bound to be effective.
As soon as Pete Docter stepped into the Chief Creative Officer for Pixar he made sure we all knew that the studio would not be creating any sequels and telling original stories from then on. Soul is Docter's fourth film from Pixar – also directing Monsters Inc., Up, and Inside Out. And I'm happy to say that I haven't met one of his that I don't like. This film is as original as they get. First, I want to point out that the film's world-building is as impressive as always. The "Great Before" and "Great Beyond" are fully realized and flourished and the film's version of New York City can easily be realized as the viewer's own city. The film's success resides in its ability to present some pretty heavy concepts in ways both children and their parents alike can understand and relate. The idea of our "sparks' not being our lives' purposes but a will to live is especially important for a year as detrimental as 2020. It's a great reminder that we all need to live and not have our lives focus on work, school, or whatever alone. The film is quite the emotional ride for both characters but I wish it had slowed down and stayed in the moment during some scenes toward the end kind of in the same vein as Inside Out's ending where the audience is allowed the time to sit and think upon what's happening. But again a very tiny detail that doesn't affect my final opinions.
And of course with Pixar comes gorgeous and awe-inspiring animation and scenery that makes a person swoon. Seriously the ethereal feel to the worlds beyond earth and even the quaint and charming neighborhood in New York City are top notch. The attention to detail is as always astounding. The inclusivity and the infusion of African-American culture is beautiful and brilliant and a wonderful step in the right direction. And as expected, the film's score is to die for. The jazz pieces as well as the synthesized melodies are lovely and enchanting and a welcome addition to the ever-growing Disney/Pixar catalog of scores that make me feel good inside.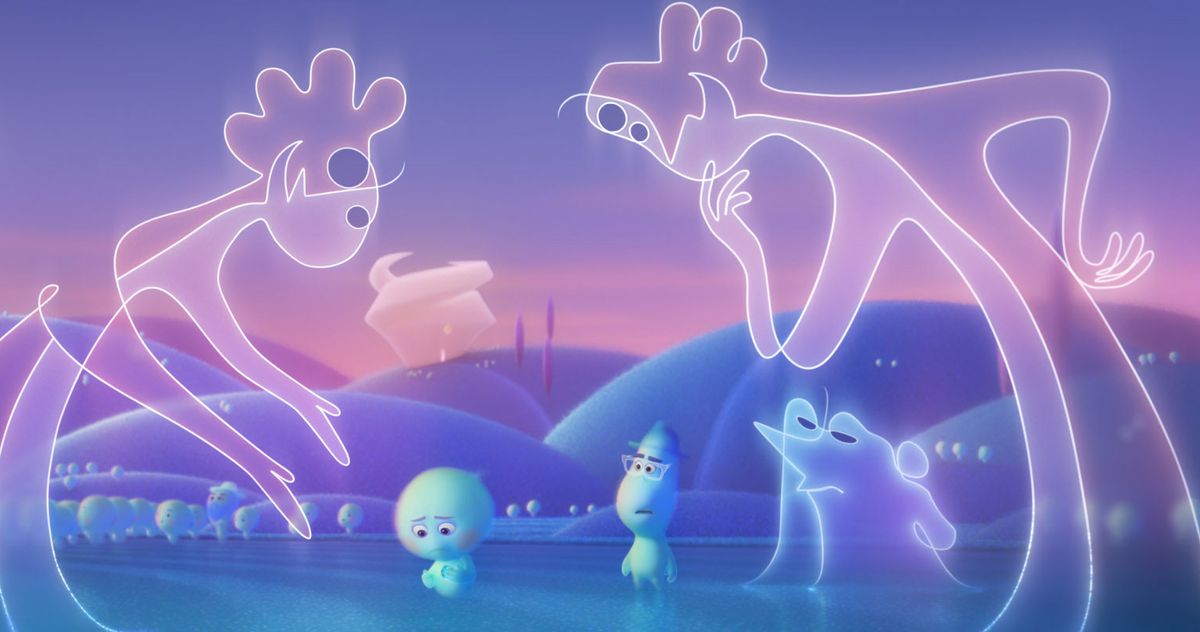 After watching I immediately placed this film in my Top 5 Pixar films and my Top 10 Films of 2020 lists. Pete Docter once again hits it out of the park with a film very reminiscent of Inside Out but is its own entity that stands apart from anything I personally have ever seen. It was absolutely worth the wait and I certainly can't wait to see what's next for the studio!
Rating: 9.5/10