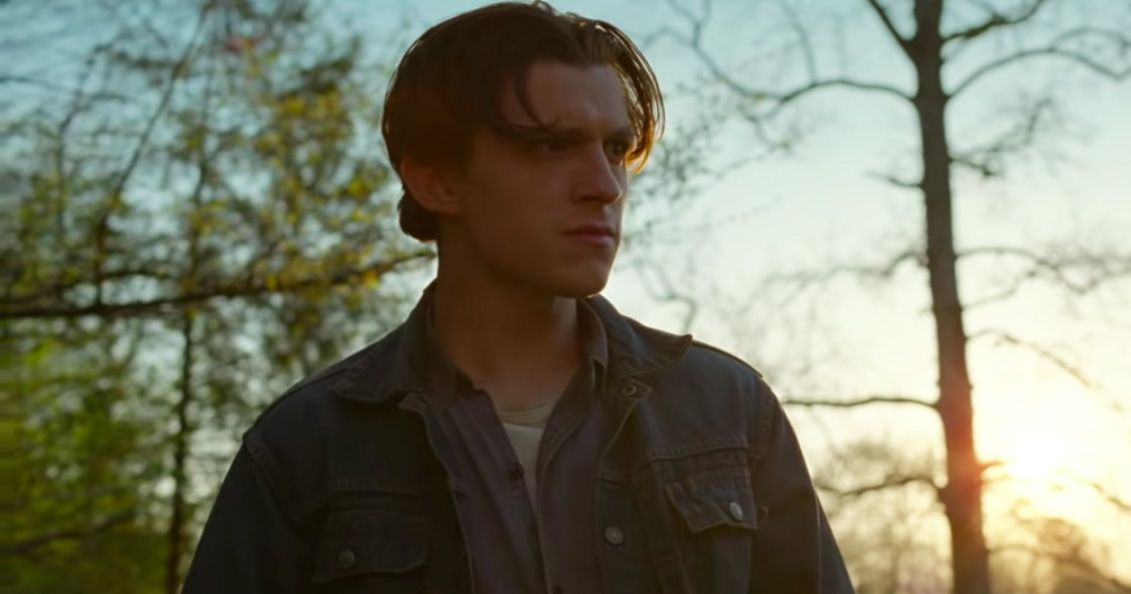 And let the 2020-2021 awards season begin! If you could not tell by now I'm a huge movie/television buff and in the same vein as Moira Rose from Pop Channel's Schitt's Creek if anyone were to ask me what my favorite season is I would say awards. The first film to qualify for the 2021 Academy Awards, The Devil All the Time, made its debut on Netflix on Wednesday, September 16th. The film boasts an impressive cast and a compelling story and message but fails to relay the latter therefore making for another so-so film.
The one aspect of this film that works really well is its cast! With names like Tom Holland, Robert Pattinson, Bill Skarsgard, and Sebastian Stan of course it got people excited for the movie. Tom Holland has really broken out of the Peter Parker/Spiderman mold and in this film in particular he is able to successfully flesh out his character Arvin and give a really stirring performance that had yet to be seen from him. He alongside Pattinson in there scenes together are brilliant. Pattinson continues to prove that he is not just a teen-heartthrob vampire and I am here for it (But one thing that he doesn't get right here is his accent.. it's no less than terrible and I couldn't do anything but cringe whenever he opened his mouth.) With his roles in Tenet and now The Devil All the Time I can't wait to see him in more mainstream projects. Skarsgard and Stan are great as well but the latter is sorely underused. The same goes for just about any of the female characters in the film. All of the actresses involved including Little Women's Eliza Scanlen, Riley Keough, and Mia Wasikowska seem pretty disposable. They all suffer from being one-sided because the film never goes deep into their characters. But I also have to take into consideration that this movie was not centering around these women and have to be okay with that. I just would have liked a little more characterization for the female characters
Adapted from the novel of the same name by Donald Ray Pollock, Antonio Campos was presented with no small task but I would have liked to have seen another director helm this project, in my personal opinion. Campos' work is harsh and unsettling in every way. Do not go into this film thinking it's anything but that. I can't say that it's the most violence that I've seen in a movie (hello period pieces about WW2) but it does not have the payoff in the end that might justify it.
That being said, the film suffers from poor timing and pacing. When I wasn't waiting for the movie to move on then I was waiting for the violence to be over. The first two acts are a bit sluggish because they are meant to set up the rest of the movie. The first act of the movie is painful at best to watch but thankfully things get better with time. I love the character Eliza Scanlen plays and I love her storyline. She's got a quiet strength and paired with Holland they're just as strong as Holland and Pattinson together. Without a laugh insight this film comes off droll and one noted and I expected more from it.
Another positive aspect to note is its cinematography. The movie as a whole does look nice – it almost looks nicer than it watches. But I did not love the score it was paired with. I thought it seemed disjointed and jarring and totally threw me for a loop. Overall, this movie just did not live up to its hype and I hate that it has so much wasted potential.
Sadly, this film does not hit its mark and ultimately does not impress as a whole. Even the strong performances from the ensemble can't elevate it to the level Netflix expected it to achieve.
Rating: 6/10