Welcome back to movie-going and movie theaters, my fellow cinephiles! I, and I'm sure a lot of others, have been waiting for those theater doors to open for quite some time now and what better way to welcome us back than an epic thriller directed by none other than Christopher Nolan. If you'll remember last year I ranked some of the movies I was most looking forward to in 2020 in Reed's 10 Most-Anticipated Movies of 2020 (which is also quite laughable because almost half of the movies included on the list have been moved up to 2021) and Tenet ranked pretty high up. As soon as I saw the trailer I was all in.
Right from the start the cast list is what grabbed my attention. John David Washington and Elizabeth Debicki, in particular, really drive this film forward. One standout that I was not initially enthralled with was Robert Pattinson who provides a lot of the film's comedic relief. He and Washington have the greatest chemistry on-screen and one might think they'd been acting alongside each other for a while. And lending his talents to the film's villain is Kenneth Branagh who continues to prove he is a jack-of-all-trades. But casting is one thing Nolan always gets right so this was almost expected.
If you don't know by now you're sure to understand by the end of this film that Nolan is infatuated with alternate universes and what would happen if humans could manipulate time and space. I have never seen anyone take the concept of time and do what he does with this film's plot. In the beginning things may come off confusing and off-putting but by the end of the film everything starts to slowly come together. Little things that you might have noticed in the beginning start to matter more toward the end which is one of Nolan's calling cards, in my opinion. There are so many payoffs that by the end of the movie all of my questions were answered and I didn't leave the theater needing to re-read the plot which I understand is not always the case with his films. But, and this is a small but, I do feel like I've seen something like this film from him before. When Inception originally debuted in 2010 I think people were absolutely gobsmacked and I think with his films since he hasn't exceeded that moment. Maybe he's resting on his laurels? I don't know.
Now technically.. Christopher Nolan is never going to let us down. The film is shot and edited really quite well. There was no sort of choppiness where scenes weren't quite edited right. As far as the production budget and design goes.. I was blown away. I think everyone knows by now that Nolan bought a Boeing 737 specially for this film to blow up because he didn't feel like the CGI would do it justice. I mean I have mad respect for the man when it comes to his film's production value. I know I've heard from several people and seen several reviews that are not very pleased with the film's sound editing and mixing and I have no arguments there. His movies are always quite notably loud and boisterous but I felt like the mixing for this one was way off.. but it didn't distract me from enjoying the film if I'm being honest. But it was very noticeable so I will give it that. Where the sound mixing was off, its score hit the mark completely. From start to beginning the film's score gives the audience a rush and it drives the film forward. I was pleasantly surprised to see that the composer for this film was not Hans Zimmer (absolutely no hate to Zimmer! I understand that he turned this down to score Dune so I don't blame him) but Ludwig Goransson who was recently nominated in 2018 for an Academy Award for Best Score for Black Panther. I thought it sounded very Zimmer-esque but in a fresh, new kind of way.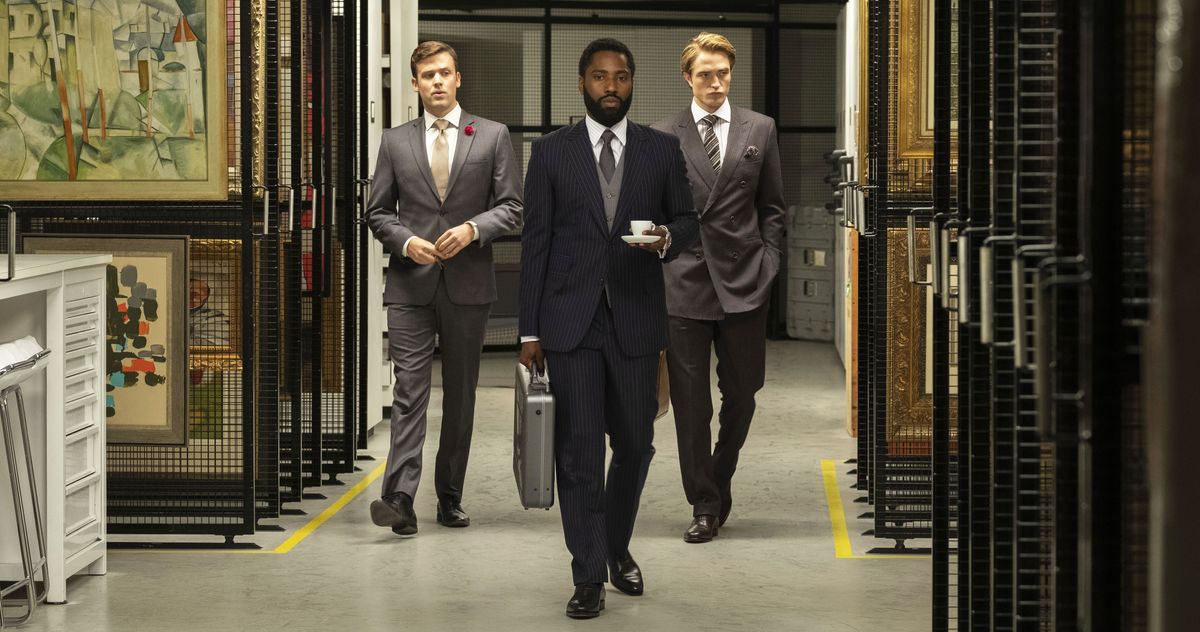 Tenet is the perfect welcome back to to movie theaters but it is not Christopher Nolan's finest. With a striking cast and interesting plot, though, it's a welcome addition to his catalog.
Rating: 8.5/10