If you couldn't tell by now, my friends, I am a huge Disney fanatic and I'm actually a fairly positive person when it comes to any Disney or Pixar movie. (That being said if your favorite Pixar movie is Cars 2 we can't be be friends) Thanks to Pixar Studios we are able to enjoy highly-advanced and state-of-the-art animated/CGI movies. It's honestly mind-boggling to think that the first Toy Story came out in 1995 or that the studio would go on to improve its craft drastically with the releases of A Bug's Life and the latter's sequel Toy Story 2. Over the span of twenty-four years the Disney/Pixar studios have cranked out some of the greatest animated movies of all time. If you're not aware Pixar just recently went through some major leadership changes. Pete Docter, the director of acclaimed films such as Monsters, Inc. and Inside Out, is now at the helm of studio and I, for one, could not be anymore excited. Here are my top 10 favorite Pixar films and why they're placed where they are.
10. Wall-E
Andrew Stanton is a bit of a big deal at the Pixar Studios. While he directed 2009's Wall-E, his filmography also includes directing both Finding Nemo and Finding Dory and co-directing A Bug's Life. I personally feel like Wall-E doesn't receive the love and respect it (he) deserves. I remember going to the movies at the age of twelve thinking it was a real snooze fest. But after a re-watch a little later down the road I fell in love with it! Yes, it starts out slow but I don't think I would've had it any other way. The audience quickly becomes super attached to this usually-inanimate object, which is obviously one of Pixar's calling cards, and we then fall in love with his story of finding love after so many years of solitude. It's a better romantic story than most rom-com type movies could ever portray. With a list of A-list actors and some absolutely stellar animation this movie this movie also packs an emotional punch that could permeate the coldest of hearts. I put Wall-E at number ten because as much as I love it Pixar also has so many other options to choose. Don't sleep on this movie! I promise you will not regret it.
9. Cars 3
If you're sleeping on the first Cars then WAKE UP. It's one of the most creative animated movies from Pixar. That being said, Cars 2 is dead to me because it is not worthy of being in this canon. Anyone would have been worried with another sequel on the way so I was hesitant to give a try but it did not disappoint. In his directorial debut, Brian Fee, released a spectacular sequel to the original with Cars 3. With the rest of the gang making a return we welcomed one new main character: Cruz Ramirez. Cruz is voiced by the hilarious Cristela Alonzo and I loved her character because I love Cristela even more. This movie made up for the disappointment that was Cars 2. The movie did not do as well at the box office as its predecessors but once again I give you, Cars 2. I think people were done with the franchise but I urge you to watch it. It is layered with emotions of all kinds. One minute you'll be (spoiler, but seriously it's been two years come on) crying over the initial scenes of Lightning McQueen crashing to rolling in your seat laughing at all of Cruz Ramirez's lines.
8. Toy Story 4
Fresh off of its June release, Toy Story 4, follows our favorite gang of talking toys for yet another adventure while also meeting up with new characters down the line. Toy Story 4 marked the return of Bo Peep to the original Toy Story gang. I won't go much into detail with this one because I do not want to spoil anything for anyone who might have waited to watch on RedBox or wherever else. This movie definitely warranted a viewing in the movie theater for me. I'm a huge fan of the Toy Story films and I loved the third installment but I will argue to the death that Toy Story 4 gave us a much better ending to the saga. Once, again I won't spoil anything for you but if you don't cry at that ending then you seriously don't have a heart. When you get some time watch this one. It might end up on a list of your favorite Pixar movies!
7. Monster's, Inc.

This one right here was a childhood favorite in the Dorsett household. All three of us loved and still love this Pixar movie. Pete Docter is a genius at what he does. This film is not only gorgeously animated (i.e. Sully in all his glory) and so, so creative but it has so much heart. Even though it is an animated movie the chemistry between Billy Crystal and John Goodman is astounding which is even more evident in 2013's prequel Monsters University. Not only was it perfect casting for Crystal and Goodman but Steve Buscemi was perfectly cast for the villainous role. I don't know if it's a good or a bad thing but every time I see or hear him in any other movie I can only think of Randall Boggs. With a twist that a young Reed didn't expect at all it provides a truly original and unpredictable plot to enhance the movie. Also, before you go blabbing about that Boo sequel.. it's NOT happening so please stop spreading the rumors and the fan-art poster.
6. Finding Dory
Two words: perfect sequel. I didn't want a sequel to Finding Nemo originally but after seeing it I'm so glad that this film was released. I understand that sequels can get old, but I think after watching Finding Dory it could also be its own entity aside from the first movie. While we got to have our beloved characters from the original back on the screen we also were introduced to some new characters that are just as worthy of adoration for generations to come. Destiny, a whale shark played by Kaitlin Olson, and Bailey, a beluga whale played by Ty Burrell provide the audience with performances that lighten the mood of the often serious tones of this movie. This movie dealt with certain issues better than other movies that I've watched. I can see where parents of adopted children would have to think before taking their children to see this because it deals with the loss of parents and reunion between the two which very seldom happens with adoptive children. But I think the movie handles its messages well and I definitely think this a movie that will be just as beloved as Finding Nemo.
5. Finding Nemo
One word: Masterpiece. I won't keep doing that but the it's the truth. It's been a whopping *THIRTEEN* whole years since Finding Nemo graced our movie screens. While, I have it placed at number five on my list I absolutely love Finding Nemo. I can't think of many movies that I could watch on repeat but this is one of them. Though its predecessors were just as colorful this one stands out to me. I don't know why but the detailing and work that went into this movie, in 2003 mind you, goes beyond words. The colors are so brilliant, the characters are introduced perfectly, and there's never a lagging moment in the plot. In particular I love that they have the gusto to really dive deep (pun intended) and imagine what life under the sea (we love The Little Mermaid) is like in their minds. This movie got me excited for the future of animation and Pixar Studios, as a whole. Seriously this movie does and will stand the test of time. I adore this gem of a movie.
4. Ratatouille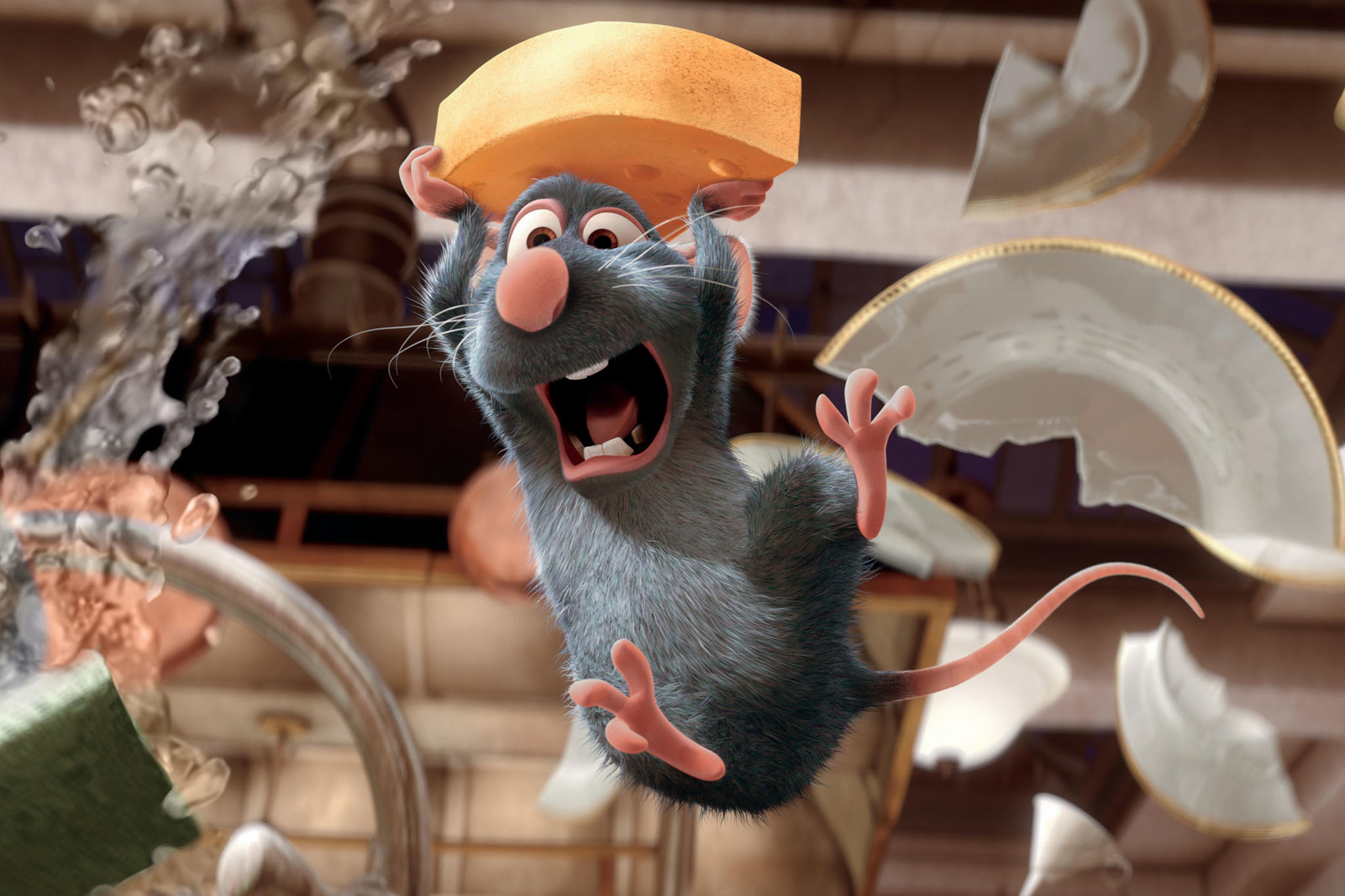 If you don't love Ratatouille then sorry but we can't be friends. All joking aside, I don't know how one couldn't love this movie. Patton Oswalt is incredible as the film's main protagonist, Remy. This movie is from 2007. When I re-watch this movie even years after its release I'm astounded by the animation. Pixar is and always has been way ahead in the game and I, for one, am proud to call myself a fan. The script is brimming with nothing but wit and smart writing. The film is able to make the audience once again fall in love with a character that isn't always praised or even alive. It is a criminally underrated piece of cinema that should be viewed by everybody. It portrays a great message of acceptance and not thinking anyone is less than capable of doing anything. The film is great for a family movie night!
3. A Bug's Life
A Bug's Life is Pixar at its finest. This movie is the second that was released by Pixar and like Toy Story it paved the way for modern-day CGI animation. The cast of characters are all lovable and interesting. (Aside from Hopper and his gang) The creativity is beyond. Like, Monsters, Inc. this movie was a constant in the Dorsett household. (Looking at you VHS tapes) This movie also does a great job of getting its message of acceptance across to the audience. The list of cast is impressive: from Julia Louis-Dreyfus to the late Phyllis Diller and Bonnie Hunt. This film is so high on this list because it's very original and it was a childhood and now an adult favorite. If you haven't seen it, you probably live under a rock.. but I forgive you. Go watch it now!
2. Inside Out
This movie goes to show you that casting is everything. The cast for Inside Out is drool-worthy. Featuring Amy Poehler, Mindy Kaling, and Bill Hader in their oh-so-fitting roles was genius. From the mind of Monster's, Inc. Pete Docter brought this movie to the big screen in 2015, even going on to win the Academy Award for Best Animated Feature. Not unlike his previous work Docter brings a slew of actual and figurative emotions to the film. The first time I watched Inside Out I fell in love. The script is incredibly smart and the characters are all so original and interesting that you are invested the whole movie. All that aside, the score from Michael Giacchino is gorgeous and I honestly could listen for hours on end. The animation, per usual, is phenomenal and so colorful. Treat yourself and give this movie a watch if you have not. By the end of the movie you'll be in your feels. This is one movie that I hope doesn't get the sequel treatment. Pete Docter has stated that he's done with Pixar sequels so I'm very ecstatic for all the new and original content coming our way.
1. Toy Story 2
Hands down the best film in the franchise and my personal favorite Pixar movie. Just like Finding Dory this is a case where the sequel improves and builds immensely on the original material. I understand that everything pales in comparison to the original Toy Story because it was so legendary but the second one for me has so much more rewatchability as well as a whole lot more heart. We're still presented with Andy's original toys from the first movie but we are also blessed with new characters that have stood the test of time and have become just as iconic as the original characters. The voice work in the whole franchise is amazing. Who could ask for a better cast? Tom Hanks, Tim Allen, AND Joan Cusack? A tour-de-force really. Not to mention Bullseye is the cutest thing to ever grace the movie screen. Seriously some of the most emotional scenes for me are the Woody and Bullseye goodbye scenes. The team at Pixar grew by leaps and bounds after their first two features because by the time they got to this film the animation was (and still is) seamless and fine-tuned. If they had stopped at the second one I do believe they would have had the perfect ending but if you'll see #8 you'll know I'm glad they didn't stop. Toy Story 2 will never not be my favorite Pixar film. I wonder if I have anybody out there that would agree with me?
I know that it might be a bit controversial to not include Pixar giants like Up or The Incredibles or even the first installment of the Toy Story saga but these movies are my top 10 for reasons explained up above. Let me know if you agree or not in the comments! What Pixar movies would you say are your favorites?
Thank you again for reading! It means the world to me that someone likes to hear my ramblings about these things! Hope you guys a wonderful Sunday afternoon! -Reed