This is going to be on the shorter side just because this subject has been done so many times.
It's October and it's the best time for a spoopy movie. I was very excited for 2019's iteration of the beloved Addams family. The Addams Family and The Addams Family Values are iconic and pertinent to anyone's Halloween watchlist. While The Addams Family does a great job invoking nostalgia from the audience it also portrays an important message.
Hands down the best part of the movie was the ensemble of actors and actresses that came together to provide their voices. An all-star lineup of entertainers such as Oscar Isaac, Charlize Theron, Finn Wolfhard, Allison Janney, Nick Kroll among so many others were the standouts of the movie. They even treated us to comedy legends such as Catherine O'Hara, Bette Midler. and Martin Short. I don't quite understand why they chose to animate this movie rather than have it be live-action but if ever there were a time to be another live-action Addams Family movie now was the time.
With the laundry list of talented people involved in the film one would expect the script to be on-par but that was not the case. I wasn't expecting anything mind-blowing but I would've liked a bit more depth from the movie as a whole. While some of the film's jokes elicited some laughs there were plenty of others that were stale and sometimes offended. I'd love to know what someone from New Jersey thought about this movie. I would like to applaud the filmmakers for their creativity. There are several things in the beginning of the movie that I thought were super brilliant.
I'll raise my question once again as to why they chose animation as the medium for this movie. The casting was on point. I, for one, would've killed to see Charlize Theron styled as Morticia Addams. The animation for the movie was pretty questionable. I am not a fan of that particular animation styling. I think that their animations of the characters was more kooky and spooky than any plot point or piece of dialogue of the movie was.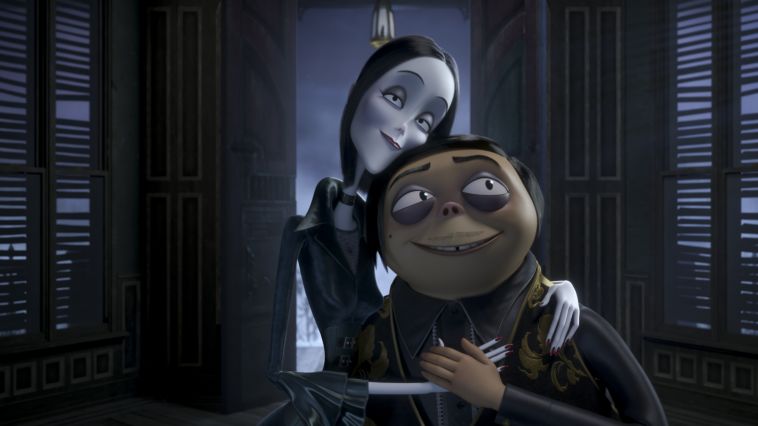 I would save my money and wait until this movie comes out on DVD or RedBox. I was personally very excited for this movie but I ultimately felt let down. I love the Addams Family movies but this one did not hold up to the originals for me.
Rating: 5/10