Let's start this by saying Little Women was my most anticipated movie of the holiday season. I've been obsessed with the 1994 film incarnation of the book for a while and I read the book way back in middle school and immediately fell in love with Louisa May Alcott's writing and stories. Stay tuned as I try to put into words just how much I adored Greta Gerwig's foray into the world of Little Women.
First thing's first: the cast. MAN, is the audience in for several treats. Gerwig is fairly new in the directing game but she's has managed to come into her own and solidify a seat among the best. She has previously worked Saoirse Ronan with Ladybird so it seemed natural for her to be cast in this movie and to be cast in a role none other than Jo March. She is the main protagonist of the story but after seeing Gerwig's take on the classic one could argue that Florence Pugh's Amy March is just as much the main protagonist of the story as well. Amy's character was finally given some justice and what she deserves in this year's iteration. While Ronan and Pugh are the powerhouses of the film the other cast is just as good. Emma Watson, Eliza Scanlon, Laura Dern, Timothee Chalamet, and Meryl Streep round out the rest of the main cast. I have zero complaints about anyone's performances in this film. All are seasoned, well-rounded actors that I'd expect nothing less from. I think the casting was perfect as well. I could think of no one better to play Aunt March than Streep and Jo March than Ronan. The four sisters, or little women, have chemistry like I've seen among no other cast. I thoroughly enjoyed their interactions and every scene they shared together.
The hardest thing to do, I think, when you're reinventing something that's been done so many times before is finding things to do differently but still have the main components of the story so as not to completely redo the whole thing. Gerwig makes this film her own and puts her own spins on it that don't take away from the main story and benefit it at the same time. Of course with every remake something is going to be different and I have to say that I enjoyed the changes that were made. I appreciated a different take on the story and the plot. The film relies a lot on flashbacks which can be quite distracting for the story at hand but Gerwig does them really well where they seem like the actual plot the audience is watching. There are good and bad ways to do flashbacks and this was certainly a great example of the better ways. The film is poignantly feminist which should come as no surprise seeing as we're talking about Greta Gerwig. Just as with other iterations of the film it shows the audience the importance of family and staying close through thick and thin but it also touches on the hardships that women faced in the days of the civil war. It wasn't thrown in the audience's face. I think it was superbly done.
Little Women is both beautifully written and directed and it's physically one of the most gorgeous movies I've seen in terms of cinematography. The one scene that sticks out to me is a scene that takes place on the beach with all of the sisters and family before they all go their separate ways. But the one thing that I think helps make the movie even more beautiful is the costuming. Every dress that's worn by the ladies of the film are stunning. Not to mention the amazing set design. It felt almost like old movies where everything was shot on a sound stage but it does not look it at all and this film accomplishes that. I'm sure some CGI work went into the movie but I absolutely could not tell and everything looked organic and that was something I was most thankful for in a time where everything is digitally retouched and looks more computer-generated.
As I always do I gave the film's score a listen after my viewing and it's just as gorgeous as it was the first time when I was watching and hearing it onscreen. Alexander Desplat is a genius at what he does and this movie's score does its job well and adds so much to every scene its used.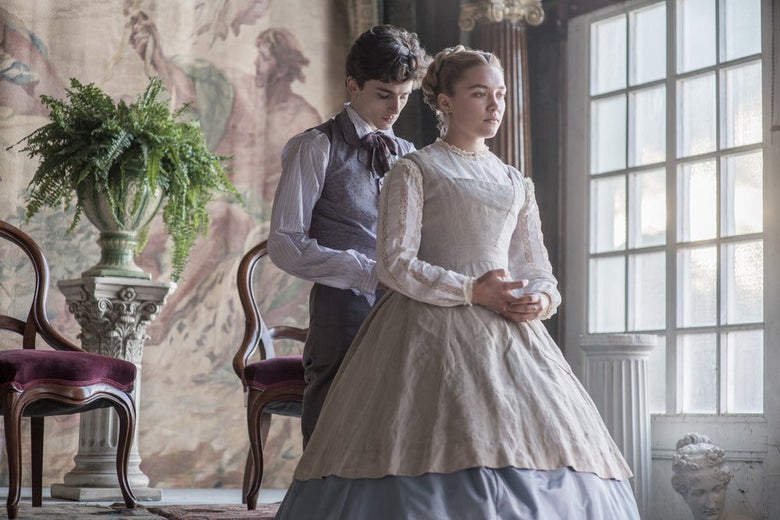 I'm begging everyone reading this blog post to run and go see this movie. I am a sucker for a good period piece so naturally I'm obsessed but I think it has something for everyone. And ladies, don't leave your men at home. Men can enjoy these movies just as much as women can. This film is an awards season gem and I can't wait to see all the nominations and awards the actors and the movie is going to keep racking up.
Rating: 10/10